Mini Wrights Peak Flow Meter 
The original Mini Wrights peak flow meter, available in standard and low range versions
Each unit is calibrated to ensure consistent accuracy levels
Standard measures PEF from 60-800 LPM
Low range measures PEF from 30-400 LPM
Integral non-return valve for hygienic protection
Includes sterilisable mouthpiece, instructions and patient record chart
Mouthpiece diameter 22mm, all types
New European standard
Medix AC2000 Nebuliser 
High Flow Rate Mains Nebuliser – for fast, efficient nebulisation of medications in the home or professional clinical environment.
Suitable for all Medications – commonly prescribed for chronic and acute chest conditions
Durable, compact case – with storage space for medications and accessories
Easy controls – suitable for children and the elderly
Includes:
AC2000 compressor unit
2 x Mirconeb III chambers
2 x drive line tubing
Adult mask
Paediatric mask
Mouthpiece
2 x inlet filters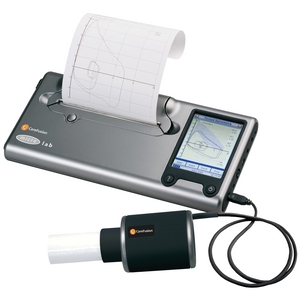 Spirometer  
Latest generation Microlab spirometer featuring a high resolution colour touch screen. Print out is via the built in fast thermal printer or via USB to a separate Hewlett Packard printer, giving a A4 report.
Key Features:
Hi-resolution colour touch screen with stylus
On screen help function
2000 test memory
Compact, lightweight device
Gold standard accuracy from Micro Medical turbine flow sensor
Real time display of Flow/Volume and Volume/Time curves
Paediatric incentive screen
USB and RS232 outputs for PC connection with Spida 5 or Spida Xpert software
Powered from mains 240v or internal rechargeable batteries.