INFORMATION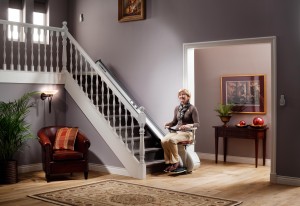 The HomeGlide Extra stairlift for straight staircases provides a premium stairlift for those who want the ultimate in options, luxury and elegance.
With a choice of fabric colours and compact dimensions, HomeGlide Extra is an elegant and attractive addition to any home. The HomeGlide Extra has the simplicity that allows the stairlift to be installed very quickly. Fitted directly onto a staircase cleanly and discretely, the stairlift glides effortlessly along an aluminium track.
Features and Benefits
Comfortable
New Flow seat which is ergonomically shaped to the user.
Aesthetically designed
HomeGlide Extra is designed to be a feature of the home, rather than just a mobility product, the user can choose between ten colours to determine the best fit.
Safety
Curved armrests fold inwards to make the user feel more secure during travel.
Suitable for all
The seat height is adjustable to five different positions when a powered swivel is used, which means that HomeGlide Extra can be adjusted to suit a variety of users.
Heavy duty
HomeGlide Extra has the capacity to manage weights of up to 146kg (23stones) at a stair case angle maximum of 45°.
Easy to store
HomeGlide Extra folds neatly for storage, using its linked seat to footrest mechanism, removing the need to bend and manually fold the stairlift.
Easy on and easy off
A powered swivel can be added to HomeGlide Extra to make getting on and off even easier.
SAFETY
Seat belt
To ensure the user feels secure during travel.
Sensitive edges
The stairlift will stop if it comes into contact with an obstacle during travel.
Emergency brake
To prevent the stairlift from travelling too fast as a result of gravity.
Emergency lowering system
To return the stairlift to the bottom of the stairs in the event of a battery running out.
TECHNICAL INFORMATION
Speed Max 0.12m/s
Drive Type Rack and pinion
Motor Wattage 280W
Weight Capacity 127-138kg
Batteries Used 2 x 12V batteries, 7Ah; Total 24V